Model NO.: H3R

Solubility: Insolubility

Name: Pigment Yellow 181

CAS NO.: 74441-05-7

C.I.: No. 11777

Sample: Free

Target Market: Global

Trademark: Tintec

Transport Package: 25kgs/Bag

Specification: Benzimidazolone

Origin: China

HS Code: 32041700

>>Product Info:Pigment Yellow 181

1.High heat stable and excellent dispersibility

2.Non-warping in HDPE

3.Halogen free

 
Appearance
Powder
Color Index
No. 11777
CAS No.
74441-05-7
Use Recommendation
Plastic Coating Paint
TECHNICAL APPLICATION DATA
Test Items
Specifcation (HDPE/PVC)
Heat Stability(ºC)
300(ºC)
Light Fastness SDâ…" Full Shade
8/8
Light Fastness SDâ…"Â  Reduction
8/8
Weather Fastness SDâ…" Full Shade
5/5
Weather Fastness SDâ…"Â  Reduction
5/5
Fastness to bleed
5/5
PHYSICAL CHARACTERISTICS
Density( g/cm3)
1.48
Alkali resistance
5
Acid resistance
5
Specific surface( m2/g)
28
Commentary
A strong reddish yellow pigment with excellent weather fastness and heat resistance, suitable for most polymers.
 

Note

: Data Presented above is based on our present knowledge and is with intentions of providing general guidelines for use of our products.

These products are offered by TINTEC without any kind of guarantee. We recommend that customers should test the suitability of these products

in their end application before use.

Packaging:

Inoxide Blue K2901 is normally packed in 15kg PE bags. Other sizes are aslo available on request.It should be stored in a clean dry area.

Hue (

Strong Reddish Yellow

):


International Certification:

>>Company Profile:Everover International HongKong Ltd


TINTEC is a fast-growing and reliable manufaturer and trader focused mainly in

plastic

industries, what we offer are not only products but valuable

solutions The company, with strong technical force, has established a close cooperation with major domestic and international well-known

manufacturers. Being customer-oriented and looking home and abroad, we're dedicated to bring customers the widest choice of colorants and

additives, and committed to making customers' products applicable and their solutions optimized so as to meet the needs of different customers.

The company's products comply with

EN71-3, REACH, RoHS

and other international regulations, with many products more suitable for food

packaging in line with

FDA, AP89-1, FPL

and other relevant rules and regulations. In addition, there are many halogen-free products, which are

used in high-end electrical and electronic fields. With long-term adherence to the purpose of "excellent quality, extreme integrity and exclusive

service", our company, based in the Southern China and the national market, has won excellent corporate reputation and the trust of consumers. 

>>Our Exhibitions: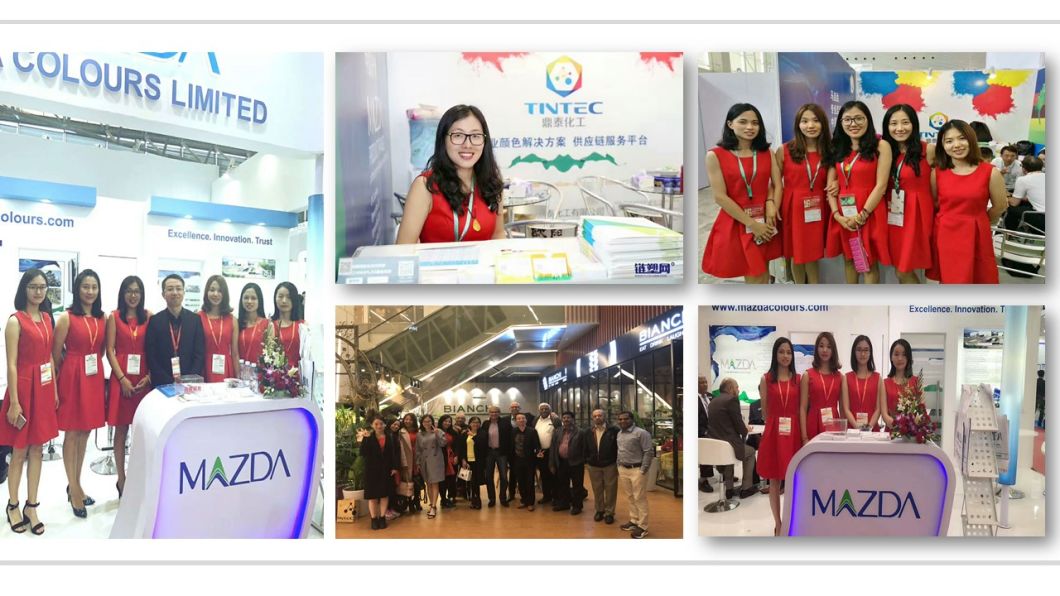 >>Sample:

We can provide samples depend on your detailed requirements 

>>Package &Â Delivery :Package Details

:Drums Or Cartons

Delivery Details

:If we have stocks, within 2 weeks. If not, within 4 weeks

Minimum order quantity

:10kgs
>>Our Advantages:

   • One-stop Colors Solution

   • Matching Solutions
   • Special packings provided
   • MSDS, TDS, COA available

   • Technical Support

   • Samples availabe

>>FAQ

1. Are your products compliant to FDA and EU standards? And have you done REACH registration for European markets?
Yes, absolutely! We have been sold our popular products around the world for many years, and we can provide all
papers files.


2.What information should I let you know if I want to get a quotation?

 -Quality you require  eg:Hue Application etc.

 -Quantity you need

 -Standard you want

3. Can you provide samples?

Yes. Wan provide samples depend on your detailed requirements.

4.What if we find your products unsatisfied?

We will send you a COA (Certificate of Analysis) to you first for you to confirm the quality, but if you find our products

not confirm with the COA after you receive it, please show us your test result, we will provide with you the professional

technical help.

 

RAL Standard Color Aluminum Coil

RAL Standard Color Aluminum Coil is a very common building construction material, it could be used to make roof, cladding, fences, doors, sandwich panel, shutter doors, etc. It's light weight, has long service life, free of maintenance, and 100% recycle.




The substrate could be different alloy of aluminum. Paint coating could be PE, HDP, FEVE, PVDF, we cooperate with famous brand of PPG, Beckers, Akzo Nobel, etc. We offer 20 years warranty for PVDF coating.


Ral Standard Color Aluminum Coil,Aluminum Roofing Sheet,Exposy Aluminium Sheet,Aluminum Coil Pvdf

Shandong Wofeng New Material Co., Ltd. , https://www.wofengcoil.com